Here's what Casting Director Rick Zeiff had to say about one of Paul's character audtions:
Rick Zeiff Comments on Paul Hernandez Mouse Audition.mp3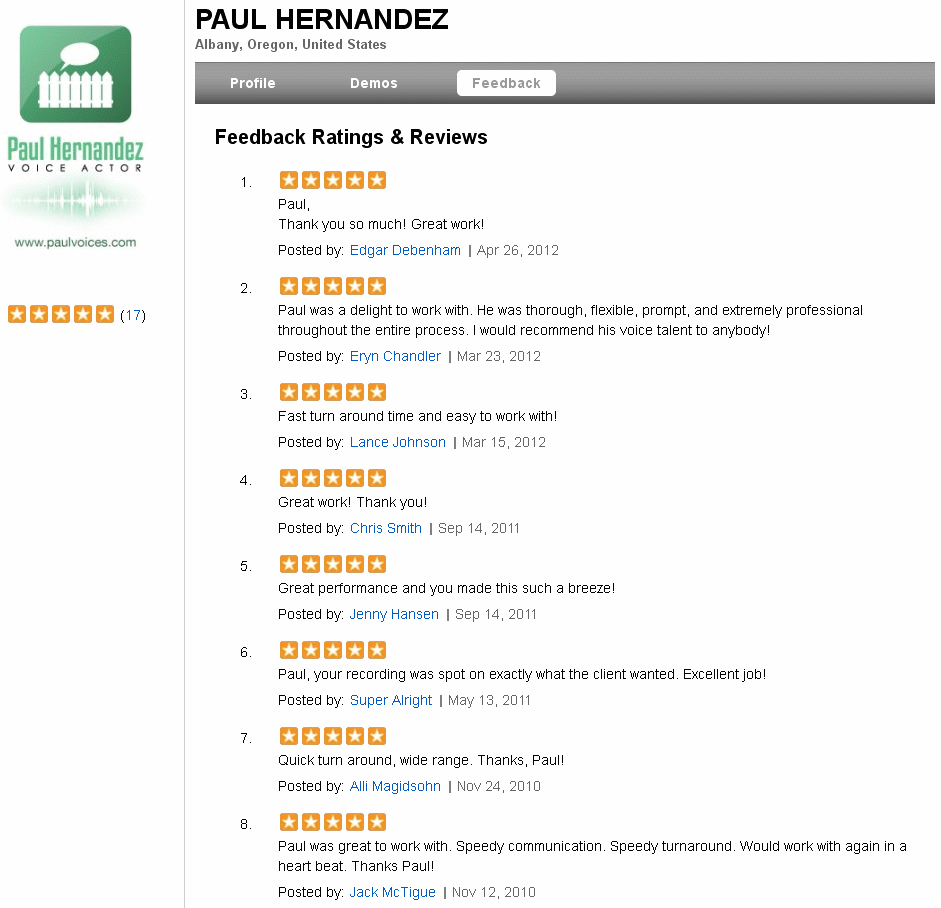 HERE'S WHAT CLIENTS & CASTING DIRECTORS HAVE HAD TO SAY ABOUT PAUL'S WORK AND AUDITIONS

Great voice. Funny, great cartoon energy and pacing. Really strong read!

- Arron Drown - Casting Director for Disney Animation
Good choice on the voice. Nice accent. Excellent animated vibe. Love the salesmanship on the Pipe Dream Special line. Love the stutter on quackpacklers. Love the sounds you did at the end.
- Sam Riegel - Voice Director for Disney


Good read - nice pacing and very real. Simple, straight forward and very believable - I would buy an Alpha from you!!

- Julie Tibbets, Voiceover Director for DPN Talent Agency
Hi Paul, I listened to several renditions of this story, some mature voices and some who were younger and still creating the memory. Your telling of the story falls right in the middle and I thought your honesty, your enthusiasm,
and energy led me, the listener to feel that not only did you happily recall those times with your Dad, but are still living that memory today. You created a great relationship with your listener - what story telling is all about. Good work.
- Toni SIlveri - All Coast Talent, NY

Hi Paul. nice work. I think you excelled at making it sound believable and like you really mean what you are saying!
- Jessica Felrice - Abrams Artists, NY
Paul I enjoyed your spot very much, good speed, friendly and clear. You sound like you?re having fun and that makes the listener enjoy the spot while obtaining great information, keep it up.
- Susie DeSantiago - Desanti Talent Agency
Very nice, you get it! I like the way you escalate your excitement. Nice job.
- Jayme Pervis - Talent Agent for J Pervis Talent
Very good. You sound like a real guy who is knowledgeable and approachable.
- Terry Berland - Berland Casting

Nice job Paul. I felt the approach was enticing to the proper degree and the spirit of the read was good for this copy.
- Jeffery Umberger - Umberger Talent Agency.

"Good real guy for this spot. What worked for me was your tempo changes, as well as your eager conversational quality. I believed him. Can't think of anything else I would do for this Paul. Great job."
- Toni Silverini - Agency Owner of All Coast Talent
"What I heard was a great wry sort of read and attitude and ability to take direction well... a sign of a good Voice Actor"
- Mary Lynn Wissner - Casting Director with Voices Voicecasting
You seemed excited about this product and didn't push it too hard, nice balance.
- Marni Anhalt - Talent Agent with Imperium 7


"It is not an easy thing to start out this quirky and maintain it throughout, but you did. Good job."
- Mike O'Dell - Talent Agent at BBA, Los Angeles

"There is a great smile and personality in your voice and you have a great natural sound"
- Nick Carreras - Imperium 7 Talent Agent


"Very nice read. Good energy, lots of personality and it sounds like you really like the shows"
- Joyce Castallanos, Promo Trailer and Narration Talent Agent with AVO Talent


"I love what you did with this copy. I feel like you were sharing your experience. GREAT JOB!!!
- Micaela Stepanovich - Talent Agent for Solid Talent

"Good job. I felt like you were speaking to one person and I felt you really were asking the questions you were asking and that you meant what you were saying"
- Jessica Felrice - Talent Agent at Abrams Artists, NY

"Good read, good voice. You are good with varying the pace. Good intensity and authority"
- Dennis Kao - Manager for Time Warner Audiobooks and Hachette

"Thanks Paul! This is a thoughtful, engaging, sincere read and you'd definitely make the shortlist. You sound real yet polished - a tough line to walk in VO but it's a request that we receive from clients every week. Great job!
- Jennie Mull - CEO and Talent Agent at In Both Ears

"Good read, good voice - You are good with varying the pace. Good intensity and authority"
- Rebecca Dodd - Talent Agent for SBV Talent

"Great personable voice!"
- Jim TerMarsche - Marsch Creative

"Your read was really good, had a nice upbeat feel, very natural, and you took the direction well. I felt as if you were proud of the product. Very Good."
- Gayle McFarlane - Owner/Casting Director of Madison Ave. Casting & Services

"It was a pleasure working with you also and I must say the client loved your voice right from the first time they heard it through to the final tracks."
- Helen Routledge, PIXELearning, Couventry, England

"Great read! Good job with pacing and energy"
- Jaimie Hernandez - Talent Agent for Special Artists Agency-

"I really want to thank you for your work! This is the 18th one of these I've done, and yours was one of the best by far. Excelent quality work! Professional to deal with and provided a very fast turn-around time. Highly recommended."
- Ken Theriot, Pigtones, Dallas, TX -

"Relaxed read with a touch of personality"
- Jeff Hixon - CEO of Voicebank.net -

"Very good. I like the energy"
- Mike Shallbetter - Executive Vice President of DPN -

"We had problems with the format and Paul was kind enough to redo the entire project for us several times. Once we found out that the problem was on our end, he was very gracious about it and very patient with us. Excellent job! We would definitely use him again."
- Beth Sowell, Episode XI Studios, Charolette, NC -

"Thanks Paul! They loved the books!"
- Mattina Scarpino, Studio Now, Nashville , TN
Audio Book projects for Harper Collins and Amacom

"The files sounds great.
Many, many thanks for the wonderful job."
- Randy Davis, Episode XI Studios, Charolette, NC -

"Paul, fantastic! At voices.com, searched for "spanish", listened to a bunch of demos, liked yours the best for this client."
- Dan Herman, Creative Director, Edge Multimedia, Inc. Portland, OR -

"Excellent work!"
- Padraig O Connell, IEG Design, Limerick, Ireland

Excellent quality audio, fast and efficient, kept informed of progress. Thanks."
– Helen Axe, PIXELearning, Coventry, England

"Your awesome!"
- Elizabeth Zazuatta, Writer/Producer, KIAH-TV,
Channel 39, Houston

"I have directed Paul on a couple of voice over projects. He takes direction very well, but at the same time offers his own suggestions and easily shares your enthusiasm for the project. His experience and professionalism make working with him enjoyable. I highly recommend Paul Hernandez
- Steven Fischer, ADG Creative, Columbia, Maryland

"Thanks for your help. Your engineer character sounds great!"
- Rudy Trubitt, Lionel Trains L.L.C

"Outstanding work. Thanks for the quick turn-around. I was fortunate to find you and look forward to a long working relationship!"
- Artie Dean Harris, The Skillville Group
"Fun.. good friend type.. good character.. fun"
Vanessa Gilbert - President/Co-Owner of TGMD Talent Agency


"Hi Paul. Good read. Great sounding voice. Thanks."
- Ken Lazer, Owner of Ken Lazer Casting, NY

Contact Paul directly via email.
Or phone 541-760-8035